Better Messages
Realtime private messaging system for WordPress
Integrated with BuddyPress, BuddyBoss Platform, Ultimate Member, PeepSo out of the box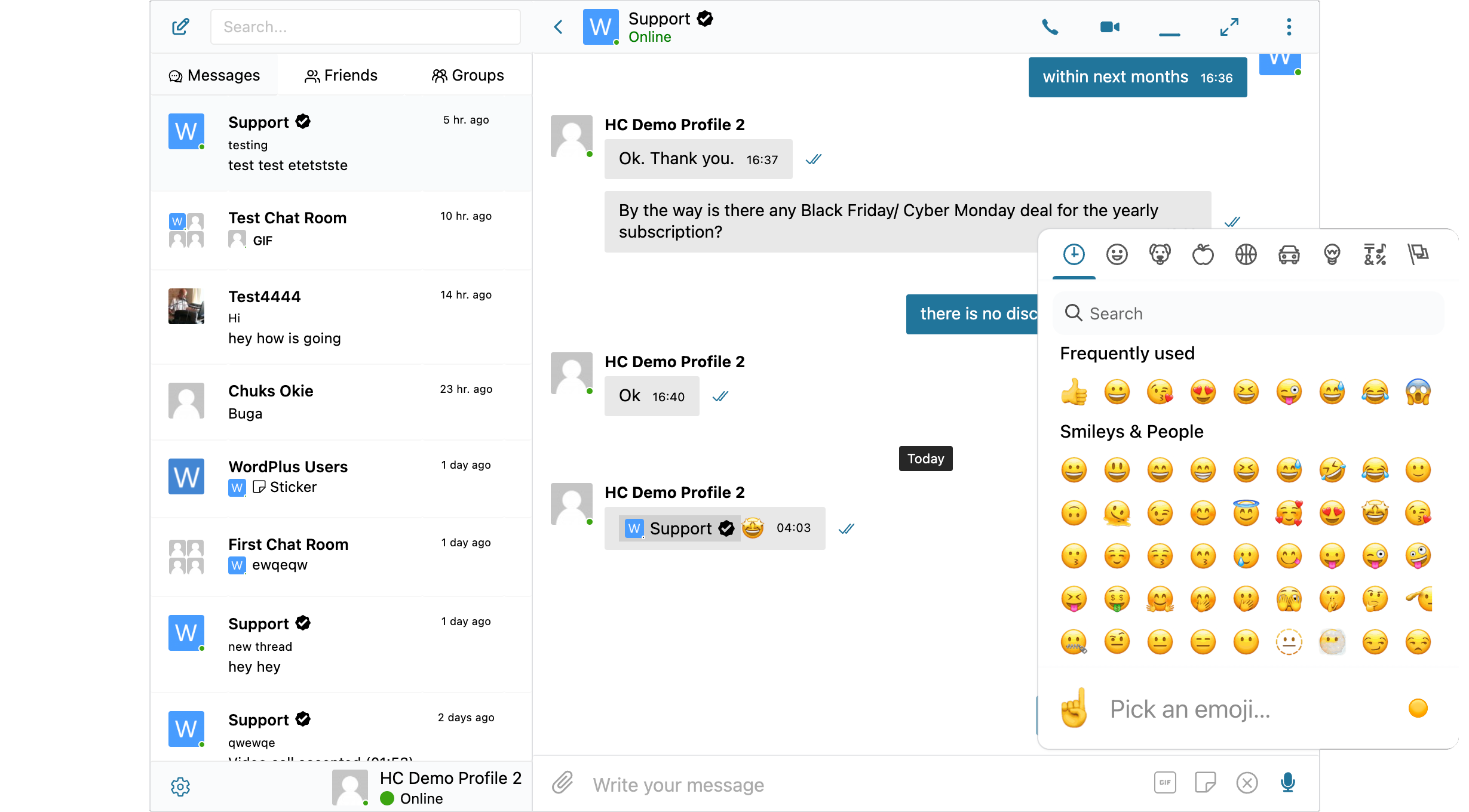 Features
Realtime Messaging
AJAX or WebSocket powered realtime conversations
Modern Design
Fully new concept and design
File Sharing
Allow your users to use emoji in conversations in easy way!
Emoji selector
Allow your users to use emoji in conversations in easy way
Sound Notifications
Users will be notified about new messages and calls with sound notification
Site Notifications
User will be notified about new message anywhere with small notification window
Email notifications
Plugin will group and send only unread messages time to time
Group Conversations
Users can create conversations with unlimited number of participants
Favorite Messages
User can mark messages as favorite and have fast access to that messages later
Subjects
Users can set subjects for each new conversation
Mass Messaging
Send message to all your users in few clicks
Search
Search in all your messages
Formatting
Use formatting in your messages
Easy Customization
Easy customize plugin colors using WP Customizer or even more with CSS
Stickers
Increase user engagement even more with stickers
Enchanced Mobile
Enhanced mobile layout to make mobile messages easy to use
Conversations Muting
Allow to mute all notifications for the specific conversations
GIPHY Integration
Increase user engagement with tons of GIFs available to use directly in messages using GIPHY API
Mini Widgets
Enable fixed to bottom widgets with list of current user friends and groups
Voice Messages
Enable your users to send voice messages additionally to text messages
Chat Rooms
Create independent chat rooms with unlimited number of participants
Reply & Edit Messages
Allow edit already sent messages and reply to other messages with nice layout
White Label
White Label Solution, so its always looks like your own solution for your website members
MyCred Plugin Integration
Integrated credit deduction with myCred plugin
Mentions
Mention other users in private and group conversations
User to User Block
Allows users to block other users from sending them messages.
Role Based Access Control
Restrict different user roles from sending or viewing messages
WordPress Native API
Plugin built using WordPress action hooks and filters, which makes it easy to customize for custom purposes
Fully Translatable
Plugin is fully translatable with native WordPress translation implementation, you can translate or tune any string with Loco Translate
WebSocket Version
Instant Messages Delivery
Incredibly fast messages delivery to all recipients in realtime! Up to 200x faster comparing with AJAX.
Secure
Secure communication between websocket server and your site users.
Private
All sensitive content encoded with AES256 encryption on your server side and our server has no any chance to decode that.
Load Optimization
Significantly reduces the load on your server by changing AJAX updating to realtime WebSocket connection
Your Data is Yours
We do not storing any private data at our side, all messages and other private content stored in your website database
No limits
Our infrastructure allows us to not limit concurrent connections or monthly active users connected to websockets servers.
Mini Chats
Continue messaging in realtime everywhere on your site using mini chats windows.
Message Status
See what is your message status: sent, delivered or seen
Typing Indicator
See when another participant writing new messages at the moment
Mini Threads List
Mini Threads allow fast access to users conversations from any place of website
Presence Indicator & User Statuses
Show if user online and allow them to set status like: Online, Away, Do not disturb.
Priority Support
Priority support for all users of WebSocket version
HD Video Calls
Allow your users to make unlimited 1-to-1 video calls using webcam
HD Audio Calls
Allow your users to make unlimited 1-to-1 audio calls using microphone
Screen Sharing
Allow to share screen with other users during video and audio calls, group video and audio chats
HD Group Video Chat
Allow users to start high definition group video chats up to 16 participants in threads, group chats and chat rooms
HD Group Audio Chat
Allow users to start high definition group audio chats up to 50 participants in threads, group chats and chat rooms
Web Push Notifications
Sending web push notification to users even if they are offline
Get WebSocket License
Take engagement of your website users to the next level with realtime chat features, private video and audio call, group video calls and many other features.
Reviews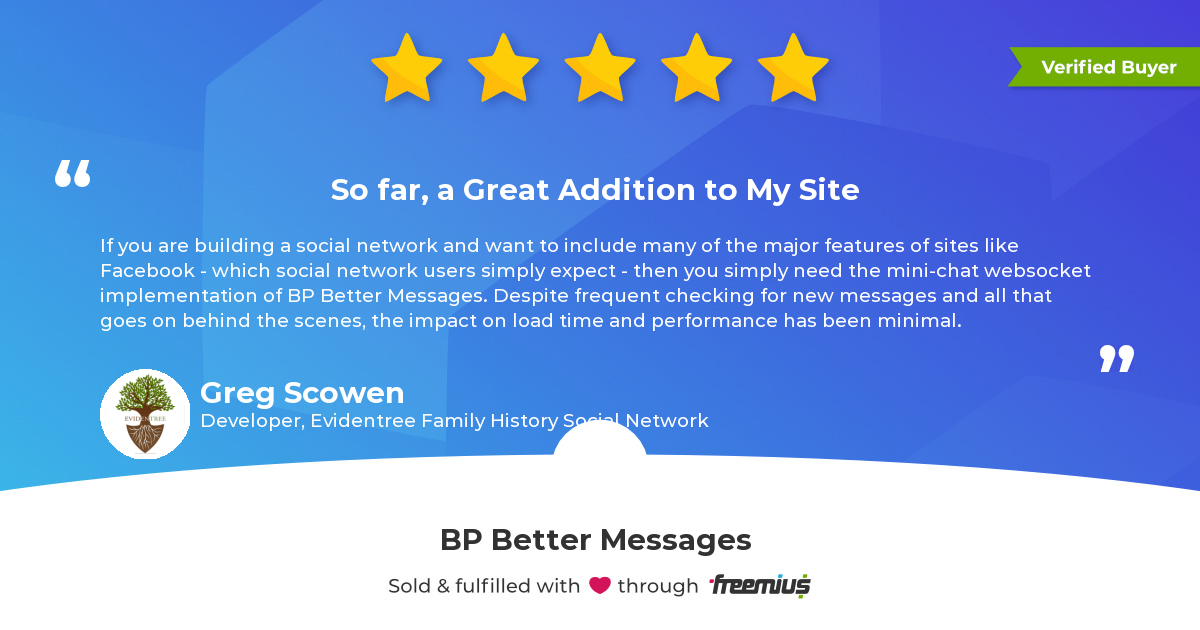 Approximate Performance Comparison
Message delivery speed (seconds)
Server Load (online users)